Want to Lose Weight? Here's How To Get 10 Servings Of Fruit And Vegetables Daily
Summary:  Practical tips on how to consume 10 servings of fruits and vegetables daily to lose weight and improve health. [This article first appeared on the LongevityFacts website. Author: Brady Hartman.]
Fruits and vegetables are rich in phytonutrients and are an integral part of the healthiest diet plans. Here are practical tips on how to incorporate more plant foods into your meals.
Due to a poor diet, about half of all American adults have one or more preventable chronic diseases, including type 2 diabetes, overweight, obesity or cardiovascular disease.  A large body of evidence, including newly published research on the health benefits of fruit and vegetables, shows that increased consumption of whole plant foods is linked to reduced risk of death and chronic diseases.
Most people struggle with the old recommendation of consuming five servings a day, however, with the right tips, it's doable. Anyone can learn how to get ten a day. Here's how.
Why Eat Ten a Day?
A landmark study analyzed the dietary patterns of over 2 million people and found that consuming ten daily servings of fruits and vegetables reduced the risk of death by nearly a third and also reduced the risk of stroke, heart disease, and cancer.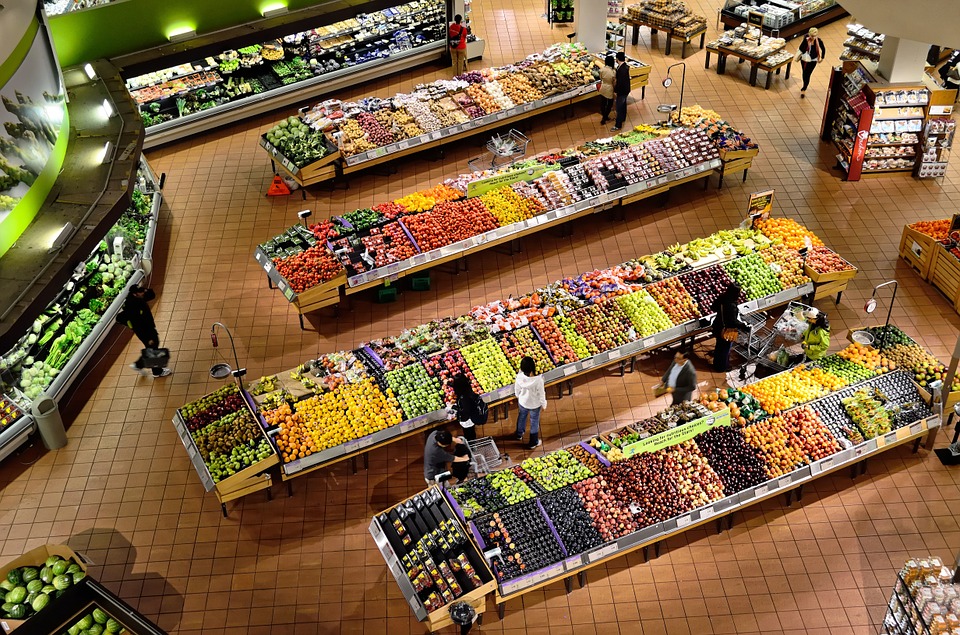 How to Get 10 Servings of Fruit and Vegetables a Day
It's easier to meet your goals if you add fruits and vegetables to every meal. Strive to eat 3 servings with each and every meal and 1 with every snack (3×3+1=10).
While getting five servings of fruits is easy, doing the same with vegetables is harder. Strive to eat vegetables with every meal, starting with breakfast.
According to the ICL study, more than 5 servings of either fruit or vegetables have not been shown to improve health, so remember to keep things balanced.
According to the ICL study, while canned vegetables are OK, canned fruits are detrimental to health. Perhaps, this is due to the sugar syrup or additives.
Frozen fruits and vegetables are equally good.
Cooked and fresh are equally good, as well.
It's healthier to eat a variety of vegetables of the course of a week, one from each vegetable subgroup, according to the 2015 USDA Dietary Guidelines.
80grams counts as one serving.
Breakfast – 3 Servings:
Be a topper.  At breakfast, consider topping yogurt, oatmeal or cereal with apples, bananas, peaches or any kind of fruit. Add strawberries or blueberries on top of waffles and pancakes.
Start the day with vegetables – consider adding vegetables, such as mushrooms, onions or bell pepper to scrambled eggs and omelets.
Any Meal:
Substitute juice for other beverages and easily get a fruit serving.
Lentils, cooked dried beans, and other legumes count as vegetables and are a great meat substitute. They are excellent in stews and soups as well.
Root vegetables, such as carrots, sweet potatoes, and other starchy vegetables are a great substitute for pasta, rice, and other starches.
Grated carrot can be added to most any meat dish, and is a great way to add a vegetable serving. It even works on spaghetti.
Heap vegetables on top of pizzas.
Avoid French fries. Potatoes are healthy, but not the ones deep-fried in fat. Broiled and baked potatoes are the healthiest option.
While potatoes count as vegetables, don't overdo them. They are among the least healthy vegetables, and already comprise half of the vegetables consumed by the average American.  A few servings a week are fine.
Lunch – Three Servings:
When packing a lunch, consider adding convenient and portable foods such as pears, apples, grapes, and bananas, or cherry tomatoes, carrots and celery sticks.
Strive to have a large salad with every lunch. So, you don't feel deprived, add meat with canned tuna or chicken or boiled eggs.
As an alternative to meat, try a large salad with half a sandwich or a bowl of vegetable, bean or lentil soup.
Add some crunch to your sandwiches with plenty of lettuce, tomatoes, cucumber or grated carrots. Pile it high and make a super-stacked sandwich.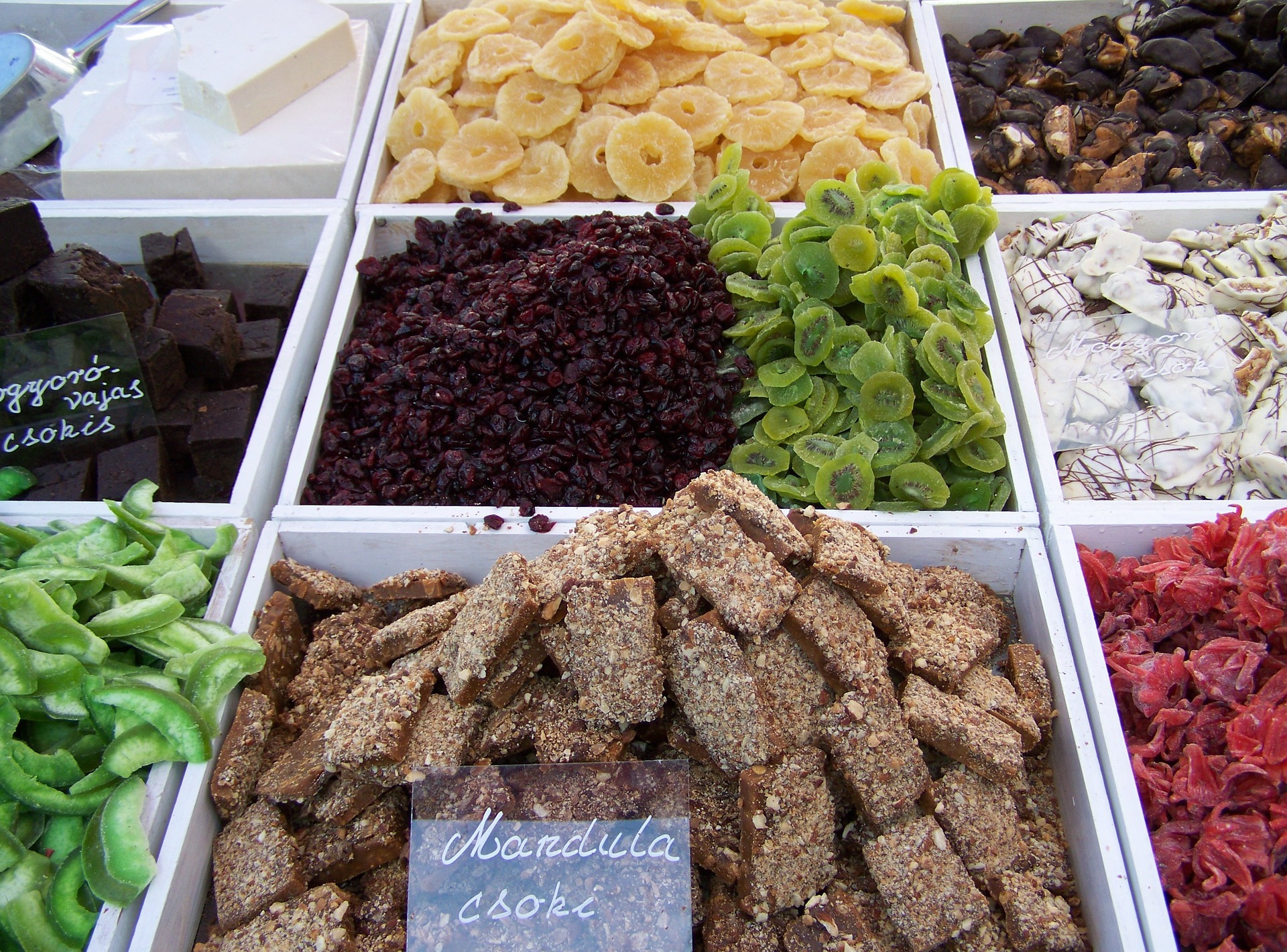 Snacks:
Forego sugary snacks – such as candy or cookies – and eat a piece of whole fruit or dried fruit.
¼ cup of dried fruit, such as raisins, counts as a daily serving. Dried fruit is easy to carry and stores well.
Nuts, although high in calories are an easy snack and count as a vegetable serving. Swap unsalted nuts for the salted kind. Low-sugar peanut butter, peanuts and other types of nuts store well.
Keep packages of dried fruit and nuts in your car, office or bag. Dried options include not only raisins, but dried mangos, pineapple, cherries, figs, dates, cranberries (craisins), and prunes (dried plums). Eat them individually, or make your own trail mix.
Cut-up or whole fruit and vegetables, such as carrot sticks make for portable snacks, however, require daily preparation. Sticks of cucumber, carrot, cauliflower or broccoli are delicious. Dip them in salsa or low-fat cheese spread.
General Tips:
Always have a supply of portable, no-spoil snacks, such as raisins on hand.
Frozen vegetables are nutritious and convenient. It only takes a couple of minutes to microwave them. Ideas include frozen carrots, peas, mixed vegetables and corn on the cob. Refrigerate or freeze cut-up produce for later.
Display a bowl of whole chopped vegetables or fruit on the table or counter.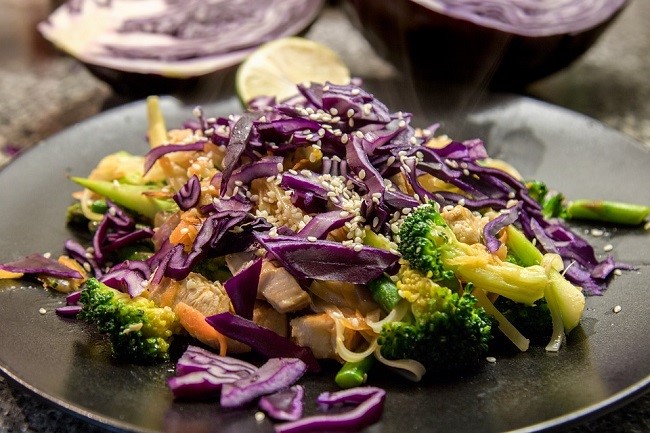 Dinner:
As with lunch, strive to have a large salad with your meal.
Go Asian! Oriental dishes are naturally loaded with vegetables.
Stews and soups are ideal because you can load them with vegetables, beans, and lentils while still adding meat. Dial down the meat and dial up the vegetables.
Substitute tomato or vegetable-based sauces for cream or cheese-based sauces.
Spaghetti is ideal, as it is tomato based. Dial down the meat and add more vegetables. Load it with chopped or stewed tomatoes, peppers, mushrooms, and onions, while still adding some meat for flavor.
Make spaghetti with less pasta and extra sauce. Serve a half-size portion of pasta with extra sauce. To avoid unnecessary calories, be sure to pick brands with low sugar – packaged tomato sauce is usually much lower in sugar than packaged spaghetti sauce.
Need to Know The Size of A Serving Size?
Check out this article:  How Big Are Fruit and Vegetable Serving Sizes?
Help Us Spread the Word
One simple click is all it takes. Please click the Facebook link on this page to post this article on your Facebook, and help us spread the word.
Article Sources / References
1.) Dagfinn Aune (Lead author),  Edward Giovannucci,  Paolo Boffetta,  Lars T. Fadnes,  NaNa Keum, Teresa Norat,  Darren C. Greenwood,  Elio Riboli,  Lars J. Vatten,  Serena Tonstad; "Fruit and vegetable intake and the risk of cardiovascular disease, total cancer and all-cause mortality – a systematic review and dose-response meta-analysis of prospective studies;" 22 February 2017; International Journal of Epidemiology, dyw319. DOI:http://doi.org/10.1093/ije/dyw319.
Available Online.
2.) Kate Wighton & Thomas Angus [Photographer], "Eating more fruits and vegetables may prevent millions of premature deaths," (Press Release), 23 February 2017, Imperial College of London. Available Online.
3.) United States Department of Agriculture (USDA), Department of Health and Human Services (HHS) "Dietary Guidelines for Americans, 2015-2020;" 8th Edition; 2016, ISBN: 9780160934650. Available Online.
Disclaimer
Diagnosis, Advice and/or Treatment: This article is intended for informational and educational purposes only and is not a substitute for professional medical advice, nor for the diagnosis or treatment of any medical condition. Always seek the advice of a licensed physician with any questions you may have regarding a medical condition, and before changing your diet or exercise program. External Links, Endorsements & Photos: This article is not intended to endorse companies, organizations or products. Links to external websites, depiction/mention of company names or brands, are intended only for illustration and do not constitute endorsements.