Researchers Announce Novel Treatment For Pancreatic Cancer
In brief: Researchers at UND announce FDA approval of a novel compound called IT-139 that improves the treatment of pancreatic cancer, a particularly deadly tumor. [This report was originally published on LongevityFacts.com. Author: Brady Hartman]
When a cell is undergoing too much stress to handle, it commits suicide as a way to protect the rest of the organism. Cancer cells, which experience a tremendous amount of cell stress, have learned to manipulate things to their advantage. Recognizing this, researchers have found a way to tinker with the cells stress response.
Just last week, researchers at the University of Notre Dame (UND) announced they had perfected a compound called IT-139, which improves pancreatic cancer treatment.  In the same announcement, UND added that the FDA gave orphan drug designation to IT-139, because
"when used in combination with chemotherapy [IT-139] has proved to be significantly more effective in treating pancreatic cancer than the current standard of care."
Pancreatic Cancer is Deadly
One thing that makes pancreatic cancer so deadly is that it's hard to detect and diagnose early, making treatment even more challenging.  Pancreatic cancer has among the lowest cancer survival rate. One-year survival rates are 20%, dropping down to 7 percent at five years.
Pancreatic Cancers Similar to Aging Cells
A pancreatic cancer cell shares a common trait with aging cells: the inflammation produced by pancreatic cancer cells causes them to produce increased amounts of misfolded proteins. Healthy aging cells also have increased amounts of misfolded proteins, caused by cellular garb-aging. Even though they usually don't provoke tumors, misfolded proteins still accelerate the aging process.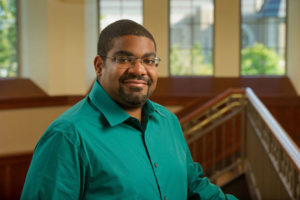 Reginald Hill, a researcher and Archibald Assistant Professor of Cancer Biology at UND, headed up the study.
Trying to understand why cancer cells have high levels of misfolded proteins, the team noticed that pancreatic cancer cells have increased production of GRP78, a chaperone protein that helps the cancer cells escape death.
Explaining the finding, Professor Hill said,
"GRP78 is a chaperone protein, or a protein that is expressed by cells to help them survive stressful conditions that would otherwise lead to cell death, such as an accumulation of misfolded proteins. We theorized that without the chaperone protein, the abundance of misfolded proteins would inhibit the cancer cell's ability to thrive."
To test the idea, Professor Hill's lab utilized a GRP78 protein induction inhibitor called IT-139, that reduces the expression of the chaperone protein in pancreatic cancer cells. In the initial tests of IT-139, the researchers found that cells with inhibited GRP78 production became far more susceptible to chemotherapy. Subsequently, the researchers confirmed their preliminary results with additional models containing pancreatic tumor cells.
Bottom Line
The primary significance of this announcement is that physicians have improved the treatment of pancreatic cancer, a particularly deadly cancer.  Also of significance is that researchers have found a way to tinker with the cell's stress responses. This paves the way for scientists to develop other life-extending treatments.
Related article: Learn how our aging cells have increased amounts of cellular-garbaging that accelerates the aging process.
One Click Helps Us Spread the Word
Please share this article and help us spread the word. All it takes is one simple click on any of the social media links on this page.
Disclaimer
Advice, Diagnosis, and Treatment:   This report is intended for informational and educational purposes only and is not a substitute for professional medical advice.  The information provided herein should not be used during any medical emergency or for the diagnosis or treatment of any medical condition. Consult a  qualified and licensed physician for the diagnosis and treatment of any and all medical conditions. Call 911, or the equivalent emergency hotline number, for all medical emergencies. As well, consult a qualified, licensed physician before changing your diet, supplement or exercise programs. Photos, Endorsements & External Links:  This report is not intended to endorse organizations, companies, or their products. Links to external websites, mention or depiction of company names or brands, are intended for illustration only and do not constitute endorsements.